Overview
The Hebrew Bible is filled with references to people, places, deities, customs, beliefs, practices and traditions of the ancient Near Eastern world. Egyptians, Assyrians, Canaanites, Hittites, and Babylonians appear as central figures in many biblical narratives. Thus it is fitting that students of the Bible turn to the literary remains of these civilizations to understand how they shaped the biblical world.
The Context of Scripture is an impressive three-volume collection of these ancient Near Eastern writings in English translations. Each translation is accompanied by cross references to related biblical texts, allowing users of the electronic edition to easily search for ancient writings that relate to a given passage. The translations also sport extensive notes and thorough bibliographies, to help the student understand the texts and provide avenues for further study.
Readers of biblical commentaries will have heard of many of the works contained in this set already. Commentaries on Genesis frequently make reference to the Babylonian creation and flood stories found in the Enuma Elish and the Epic of Gilgamesh. Commentaries on the other Pentateuch volumes often draw comparisons with early law codes, like the Laws of Hammurabi, or with the Hittite suzerainty treaties. The Song of Songs is often compared with Egyptian love poems, as Proverbs is with works of Egyptian wisdom literature, like the Instruction of Any and The Instruction of Amenemope. The Ugaritic Baal cycle is a treasure trove of information on Canaanite religion as well as containing enlightening linguistic parallels to biblical Hebrew, and makes regular appearances in the biblical commentaries. Commentaries on Chronicles and Ezra point to the edict recorded on the Cyrus Cylinder, which contains a striking parallel to Cyrus' edict contained in the biblical text, and so on.
Key Features
Cross references to related Biblical text
Extensive notes and bibliographies
Ideal for students and pastors
Praise for the Print Edition
Now that it is complete, this major publication project will clearly replace James B. Pritchard's long-standard Ancient Near Eastern Texts. The three volumes of The Context of Scripture offer improved renderings of familiar texts, introduce more recently published texts to a wider audience, and shed new light on the Bible by means of detailed introductions and copious annotations. Yet one can happily read the texts without ever consulting the footnotes. The Context of Scripture will no doubt stimulate the reading of the Bible in its ancient context, resulting in a better understanding of what Israel shared with her Near Eastern neighbors, and how she differed from them.
—Alan Millard, Biblical Archaeology Review, 2004
All students and scholars of the Hebrew Bible and the Ancient Near East will be grateful for this impressive and authoritative work. It is wonderful to have so much of ancient Near Eastern literature in one collection, translated by the best scholars in the field.
—Ronald S. Hendel, Bible Review, 1998
…this volume will prove an indispensable tool for all who seek to intepret the Old Testament within its cultural and linguistic environment.
—Daniel L. Block, Review and Expositor
…the three volumes in COS will be reliable and frequently used companions of Old Testament scholars in the next fifty years. Biblical commentaries and journal articles will regularly refer to them.
—Ralph W. Klein, Currents, 2001
…an up-to-date and indispensable collection of Near Eastern literature.
—William M. Schniedewind, Religious Studies Review, 2001
Given the high quality of this compendium, one of the editors' hopes for this series would seem to be well founded, namely, that The Context of Scripture will become a standard reference work in college, seminary, and university libraries well into the twenty-first century.
—Gary N. Knoppers, Review of Biblical Literature, April 2000
Product Details
Title: The Context of Scripture
Editors: William W. Hallo and K. Lawson Younger, Jr.
Series: The Context of Scripture
Publisher: Brill
Volumes: 3
Pages: 1,443
Individual Titles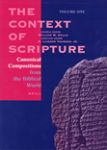 Canonical Compositions from the Biblical World
Editors: William W. Hallo and K. Lawson Younger, Jr.
Series: The Context of Scripture
Publisher: Brill
Publication Date: 1997
Pages: 599
Volume I is devoted to 'literary' texts: those responses to the world about them by which the creative minds of antiquity sought to come to terms with their environment, real or imaginary.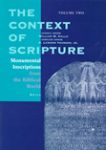 Monumental Inscriptions from the Biblical World
Editors: William W. Hallo and K. Lawson Younger, Jr.
Series: The Context of Scripture
Publisher: Brill
Publication Date: 2000
Pages: 438
Volume II is devoted to building and votive inscriptions, seals, weights, treaties, collections of laws, and other genres originally inscribed on durable mediums or in multiple copies for long-term survival. Many are royal inscriptions, and nearly all are crucial to the reconstruction of the history of the Biblical world.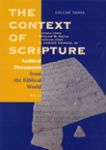 Archival Documents from the Biblical World
Editors: William W. Hallo and K. Lawson Younger, Jr.
Series: The Context of Scripture
Publisher: Brill
Publication Date: 2002
Pages: 406
Volume III provides a generous selection from the vast number of legal, commercial and private documents preserved from pre-classical antiquity. These courtcases, contracts, accounts and letters, so often slighted or underrepresented in older anthologies, throw a bright light on the daily life of ordinary human beings as recorded by their contemporaries. In addition, exhaustive indices to all three volumes identify and classify all proper names and many of the themes struck throughout the work.
About the Editors
William W. Hallo is the William M. Laffan Professor of Assyriology and Babylonian Literature and Curator of the Babylonian Collection at Yale University. He holds degrees from Harvard, Leiden, and Chicago. He is author or co-author of Seals and Seal Impressions (2001), The Ancient Near East: a History (1998, 1971), Origins (1997), The Book of the People (1991), Scripture in Context (4 vols. 1980-1991), Heritage: Civilization and the Jews (2 vols. 1984), The Tablets of Ebla (1984), Sumerian Archival Texts (1973), The Exaltation of Inanna (1968), and Early Mesopotamian Royal Titles (1957).
K. Lawson Younger, Jr., Ph.D. (1988) at the University of Sheffield is Professor of Old Testament, Semitic Languages and Ancient Near Eastern History at Trinity International University -- Divinity School, Deerfield, Illinois. He is the author of Ancient Near Eastern Conquest Accounts: A Study of Ancient Near Eastern and Biblical History Writing (1990), co-editor of Mesopotamia and the Bible (2002), as well as numerous scholarly articles and reviews.