Scholars from numerous disciplines rely on Philo's writings for their research. As one of only a handful of Jewish authors writing during the first century AD, Philo is a necessary primary source for theologians, biblical scholars, and historians. And yet there is a tendency for these same scholars to focus more on using Philo's works as reference material for their own studies with less interest in the origins and preservation of these writings in their own right.
David T. Runia recognized this challenge to Philo scholarship and has sought to fill the gap with these two volumes. He has satisfied the need for a more comprehensive examination of Philo's writings, their historical setting, and their preservation by early Christians by providing us with the first English commentary on Philo's writings—and the first commentary in any language in more than seventy years. Likewise, Runia has also provided comprehensive coverage of the preservation by early Christians who saw Philo's works as a resource for developing Christian theology and philosophy.
Key Features
The first English commentary on any portion of Philo's writings
Essential readings on Philo's relationship to the church fathers
An index to the patristic references to Philo's writings
Praise for the Print Edition
An excellent and very helpful first commentary in this series on Philo's major works.
—Fred W. Burnett, Religious Studies Review, 2004
This is a masterwork of historical scholarship that, in scope and execution, demonstrates the kind of contribution a commentary of this type can make.
—Mark Weedman, Review of Biblical Literature, 2006
Product Details
Title: Brill Philo Studies Collection (2 vols.)
Publisher: Brill
Author: David T. Runia
Volumes: 2
Pages: 749
Individual Titles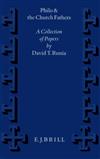 The extensive writings of the Jewish philosopher and exegete Philo of Alexandria (15 BCE to 50 CE) were preserved through the efforts of early Christians, who decided that these works could assist them in developing their own distinctive kind of thought. The papers deal with various aspects of the process of reception that Philo received at the hands of the Church Fathers. Authors who are given particular attention are Athenagoras, Clement, Origen, Basil, Gregory of Nyssa, Isidore of Pelusium and Augustine. The papers also include a hitherto unpublished English translation of the author's inaugural lecture held at Utrecht in April 1992.
Students and scholars of Jewish and Patristic philosophy and exegesis, and of intellectual history will all appreciate the papers collected in this volume, as well as those interested in the history and transmission of ancient texts.

This study is the first volume in the new Philo of Alexandria Commentary Series. It contains a new English translation of Philo's famous treatise On the Creation of the Cosmos and the first ever commentary on Philo published in English. In this work the Jewish exegete and philosopher gives a selective exegesis of the Mosaic creation account and the events in Paradise as recorded in Genesis 1–3. It is the first preserved example of Hexaemeral literature, and had a profound influence on early Christian thought. The commentary aims to make Philo's thought accessible to readers such as graduate students who are just beginning to read him, but also contains much material that will be of interest to specialists in Hellenistic Judaism, ancient philosophy and patristic literature.
About David T. Runia
David T. Runia, D.Litt. (1983) Free University, Amsterdam, is Professor of Ancient and Medieval Philosophy at the University of Leiden and C.J. de Vogel Extraordinary Professor of Ancient Philosophy University of Utrecht. He has published extensively on Philo, including Philo of Alexandria and the Timaeus of Plato (Brill, 1986) and (with R. Radice), Philo of Alexandria: an Annotated Bibliography (2nd ed.; Brill, 1992). He has been editor of The Studia Philonica Annual since 1989